Sunday Morning Worship
Join us every Sunday morning for a time of food & fellowship as well as praise, prayer & preaching. Doors open at 10:15am.
Come as you are. All are welcome!
Every Sunday – 10:15 AM – at Largs Church of the Nazarene
21 Aitken Street, Largs KA308AT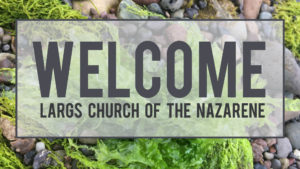 Second Helping Bible Study
One Sunday evening each month, we gather together at 6:00PM for a time of worship, food, fellowship, and lively discussion, asking hard questions and delving deeply into the scriptures that we've been studying on Sunday morning. We also share the Lord's Supper together.
Once a month – check our Facebook Events for dates or contact us for more information.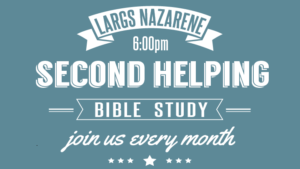 Mid-Week Devotional and Prayer
Every Wednesday at 7:00 PM we gather at LargsNaz to spend time in prayer and discussion. For the next eight weeks we will be reading together and discussing "Way Truth Life, Discipleship as a Journey of Grace" by Daviid A. Busic. This time is open to anyone who would like to join us.
Every Wednesday 7:00-8:00PM